Wednesday, April 30, 2008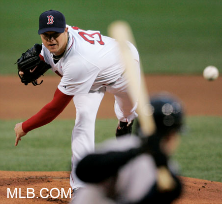 Honestly, I got to see very little of last night's pitchers duel between Jon Lester and the Jay's Roy "Doc" Halladay. I teach on Tuesdays and Thursdays and can't even really keep up with the score, let alone watch the game. So I get to my car about 9:00 PM and get the XM rolling. I hear Lester strike out two and get a routine grounder from the third to clear the Jays in the 8th. I listen to the continued "next to nothing" of the Sox bats in the bottom of the frame. Papelbon comes in and as I'm parking, he has struck out one batter on 3 pitches, the second on 4. By the time I get in the house and fire up MLB.tv, I've missed a double by Rolen and the play of the game, a huge stop by Dustin Pedroia (that looked exactly like his huge stop during Buchholz's no-hitter last September). Then, as I ate my supper and wondered why the Blue Jays insisted on keeping Halladay in for the ninth. Sure enough, two out walk to Papi, Manny single, Youk walk-off. Game!
Lester was utterly awesome. One hit, 6 K's, 4 walks, no runs. What else can you ask for. In fact, the only hit almost wasn't a hit because of what would have been another great Pedroia play. He leaped on an line drive by Overbay to lead off the fifth. The ball went off his glove, but had he caught it, Lester would have been looking at a no-hitter of his own going into the ninth.
While the bats continue to suck, the Red Sox have had three virtuoso pitching performances in the last three games (Buchholz, Beckett, Lester). If they can get back to production at the plate, May will be looking very promising, indeed!