Tek PH Homer: Red Sox 5 - Indians 3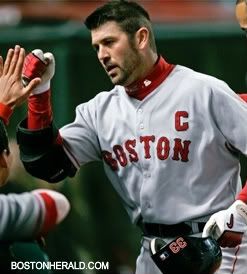 For the second night in a row, the Red Sox pulled off a little drama with a ninth inning jack. Instead of Manny this time, the pinch hitting
Jason Varitek
cranked a solo shot in the ninth to give the Sox a one run lead. Youk would also score a run in that inning to thwart the efforts of the Indians and Jensen Lewis.
After the homer that Manny hit on Monday,
Joe Borowski,
that Indians' closer wwent to the DL, the team citing triceps issues. MLB Home Plate reported that Borowski's issue wasn'T so much pain as it was a feeling like "throwing under water." Whatever the issue, last night's replacement being Lewis ended up feeling drowned a bit, too.
Perhaps the real story of the night was the MLB premier of
Jed Lowrie
. The game saw his first hit in the majors and also his first three RBI - not to be understated in a two run win!
David Ortiz
, while he did ground into a double play, managed to get another hit, brining his average up to triple digits again (.113) Manny went 0 for 3, with a walk and a K.
So, off we go to NY!