Yanked Back to Blogging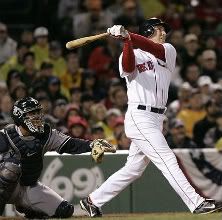 After being away for a couple days and not getting posts done for the Tigers' first win and then the Red Sox coming back the next day to spank them 12 - 6, I'm "yanked" back here today after listening to the first Yanker-Sox match of 2008. The painful 4-1 loss the Red Sox suffered leaves one wondering which is more to blame; the virtuoso performance by Wang (complete game,2 hits, 1 ER, 0 BB, 3 K's, 1HR) or the continued anemic plate performance of the Red Sox. Most notably, of course, is the pathetic .077 that David Ortiz is posting, which includes an 0 for 3 last night.
Buchholz had another good outing. (6 innings, 4 hits, 1 ER, 3 BB, 3 K's) But, like I mentioned, no run support. Right now, for Sox pitching, the first sing of a weak link is Jon Lester. He seems to break down consistently after about 4 innings. He looks like a deer in the headlights when he gets in trouble, which is not what I was thinking when
I predicted him having a breakout season
. Oh, and there ther's the bull pen, which I can't even bring myself to think about these days.
While stopping in at
TalkSox.com
for the usual camaraderie of other beleaguered Sox fans, I noticed many comments about the lack usual excitement around this Sox/Yanks series. These comments came from both Red Sox fans, as the oddball Yanker fans that always seem to be on TalkSox. (These guys puzzle me to no end, but maybe that's best saved for another post.) I, on the other hand, was juiced for this weekend since seeing in on the schedule. With both teams coming in dead even in the surreal AL East, who cares if it is only April?
Relegated to listening to the audio from WRKO (thanks to MLB.tv's blackout of YES carried games in my area) I sat in my kitchen with the laptop in front of me, wringing my hands and looking at a ridiculous box score as it built itself. I'm hoping for better things today, as FOX states they are carrying the game. Tomorrow, ESPN's Sunday Night Baseball promises the third game. I'm keeping my fingers crossed for both. I like the match-ups in the next two games. Mussina vs. Beckett will depend if Josh is closer to his mid season form that in his first start and if Mussina is closer to last years "suck" than in his previous start. Sunday feels really good. The recently smokin' Dice-K up against Phillip Hughes.
GO SOX!!!