Good Start: Tigers 0 - Red Sox 5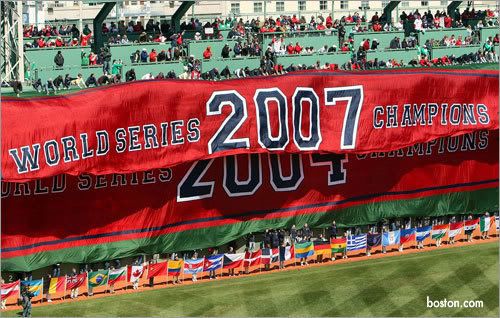 With the first game at Fenway, the 2008 season can
really
begin, and what a way to start. Dice-K was superb again, throwing 6 2/3 shut-out innings. The bats finally woke up a bit (at least most of them) and the Red Six prevailed, 5 to zip, over the hapless Tigers.
There was so much more though, and all before the game began! Attended by representatives of Boston sports championships (Celtics, Bruins, Patriots) the 2007 rings were handed out. Of special note was the fact that players that were around for the '04 win received special rings, with two trophies depicted under their surnames where the new gents only have one trophy. The rings were gorgeous, and (at least on MLB.tv) they showed close-ups of most as they were dispersed.
There were lots more guests. Johnny Pesky was in attendance and, with a little help from Papi, hoisted the new 2007 World Series Champions flag. In perhaps the biggest surprise, the first pitch of the game was thrown by none other than Bill Buckner! A teary-eyed Buck emerged from behind the banner cloaked green monster and received one of the largest ovations of the day.
Buckner later went to the booth to chat with Jerry and Don. I have to be honest, it was the low point of the afternoon. First, I am not a big fan of interviews during the game. I want to see the game, you know? But poor Buckner! Let's just say that he's not a great public speaker. At one point Don Orsillo made a joke about Buck perhaps getting into the booth somewhere because if Jerry could do it, anyone could. I think Buckner's ten minutes of mumbling and extended pauses is proof that Don is way off.
It was still good to see Bill Buckner.
Steven Tyler of Aerosmith was on hand to belt of "God Bless America" during the stretch, but I did not get to see that thanks to MLB.tv.
So, now we move on with the rest of the season. Here's hoping we have another one of these to watch in April of '09!