Back and On a Roll
Yeah, yeah! I know. I'm a slacker. No excuses. But I've been paying attention to both the Phils and the Sox over the last few days, and what a few days they've been, huh?
As for the Phillies, they played a 4 game series with San Francisco. Each game was decided by the winning team's last at bat. This included 3 walk-offs by the Phillies. Chase Utley continues to have a good portion of the time on talk radio with early predictions of NL MVP. Ryan Howard, on the other hand, continues to suck. As of today, he's got a .168 batting average, and 47 K's in 119 ABs.
Over in Detroit, the Red Sox have taken the the first two in a four game series against the offensively anemic Tigers. This is following a three game sweep of the Rays at Fenway. The Orioles have slowed down a bit, getting closer to what they really are. And the Yankers appear to be dealing with a start similar to last year's, without the talk of firing Torre, of course.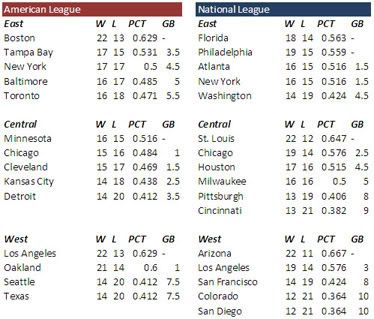 Papi and Manny went back-to-back last night, which puts Manny at 497! I think I have 5/19 in the pool.
Labels: Giants, Orioles, Phillies, Rays, Red Sox, standings, Tigers, Yankers