This Time, It's Personnel!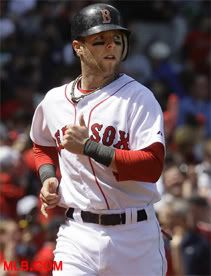 Holy cow! is there ever a lot going on with the Red Sox and personnel? As a service to my readers (all three of you) let me encapsulate some of the many items.
Jacoby Ellsbury, Dustin Pedroia, Jed Lowrie
The "Young Ones" are doing there best to pick up where they left off last October. Jacoby is batting a decent .290, and his OBP is .423. He is 8/8 on steals, has 9 RBI, and 3 jacks. Peds, one of the few position players who's position is never really in question, is batting .351, with 13 RBI. Then, when you consider Jed Lowrie's play while filling in in an infield in constant flux, it really makes you smile thinking about how good this team could be for years to come!
Coco Crisp, Bobby Kielty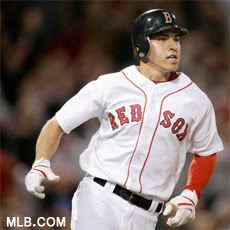 Well, these days, instead of talking about where we can trade Coco, it now seems we're talking about keeping our intermittently smiling and serious outfielder. With
Bobby Kielty due for hand surgery
, and Coco coming back in the line up, perhaps the Crispy one is not due for Chicago or elsewhere? Coco is batting .306 with 5 RBI so far this season and has only one error.
Mike Lowell, Sean Casey
Our Mike is due to take some starts at Pawtucket and be back in the line up shortly. Though we surely miss seeing him on third, you can't help but like the way Youk covers for him. To make matters better, Sean Casey has been more than adequate on first. Sean is batting .346 with 8 RBI and one error at 1st.
Josh Beckett, David Pauly
Josh goes down with a stiff neck (read as copious vomiting and the trots), so in comes David Pauly from AAA. Not a Beckett-like start by any means, but solid enough to let the offense win the game.
Manny Ramirez, David Ortiz
Manny just being Manny means 6 jacks, 20 RBI, a .356 BA, and a .423 OBP. Papi, who started off horribly slumped, has batted .305 with 12 RBI since April 14.
Dice-K, Jon Lester
What's worse that Dice getting the flu and missing a start? Filling in with Jon Lester, this young season's front runner for the "What Was I Thinking Award." I had Lester pegged to have a breakout season and possibly win 20. That sure doesn't look like one of my brighter posts! Also, he came in on 3 days rest, which is one more than the 2 innings he covered in the loss to the Angels. Dice has not made the trip to Tampa Bay, but wouldn't be scheduled to start anyway.
Clay Buchholz, Manny Delcarmen, Justin Masterson, Mike Timlin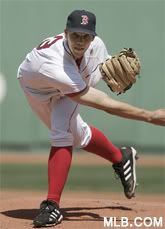 Done typographically, that list of names above would look like a roller coaster, which is an accurate simile for the Sox pitching. Buchholz is off do a decent start (1-1, 4.89 ERA, 18 K's and 8 BB over 20 innings). Manny Delcarmen will look strong on one appearance, then like paper mache the next. Justin Masterson looked wonderful in his first major league start (6 IP, 1 ER, 4 BB, 4 K's), but our boy Mike Timlin is simply not the Mike Timlin we've seen before. (5.3 IP, ERA 13.50, 2 BB, 2 K's).