What a Circus!
Let's begin with the idea that no, Coco Crisp charging the mound was probably not the best thing to do. That having been said, the fracas that ensued was one for the archives, to be sure. Coco was ejected and rightly so. Shields was ejected and rightly so. That, if it were up to the Red Sox, would have been it. But the Sox weren't playing a team that is used to having games that matter. This was evidenced by the fact that Johnny Gomes was seen on top of Navarro (who was holding down Crisp), punching wildly and the pinned center fielder. Gome got tossed, too, and rightly so.
Where the "rightly so" ends is in the fact that Iwamura threw punches and did not get tossed. Carl Crawford can be clearly seen pounding on Crisp's head, and he did not get tossed. Suspensions don't necessarily follow ejections, so let's hope that they get some repercussions.
And for you Ray's fans, I challenge you to find one other Boston player besides Crisp that threw a punch. I've watched the play back at least a dozen times. What you see is a whole list of Ray's who felt they were entitled to throw punches. Let's remember that this all started with rookie Jason Bartlett dropping his knee to block second in the Wednesday night game. In all the years I've watched baseball, I have never seen a shortstop block second on a steal attempt. But all these things from Tampa...that knee drop, the beaning of Crisp, and the enventual pile-on, are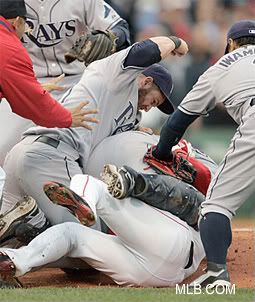 no surprise. These guys are not used being where they are. Plus may their a little pissed-off as well because
of all the empty seats at their home games!


There was also some baseball played. Manny hit a 3-run jack in the first and drove in two more later, for a 5 RBI night. And I can't help but wonder, didn't anyone think after losing the first two games of the series, dropping out of first by half a game, that the Ray's might forgo the attack on Crisp a little farther than the second inning? Thanks in part to the Ray's vengeance move removing their started in the second, the Red Sox trounced the visitors, 7 -1.
Jacoby then rolls his wrist on a typical Ellsbury stupendous catch. So far, the report is a strain, no breaks. Buy the MRI will be the real test. That left the outfield looking rather odd. Chris Carter in left (who went 2 for 3 at the plate), J.D. in center, and Youk, who was to have the night off, in left.
Youk was probably happy to get out of the dugout after
Manny took a swing at him!
What the heck was that all about? Good grief! Are there two guys less likely to be fighting in the dugout? Hopefully we'll get some insight on that disagreement in the days to come.
Manny, who spent most of his time in the dugout while acting as DH, was relieved of that job too when an inside pitch prompted him to move awkwardly out of the way and tweak an already tender hamstring. That brought Kevin Cash in as DH! Know, we all know Kevin Cash and his sun .200 career batting average in the minors, right. Only coming into last night's game, Cash was hitting .301! He only batted once, striking out, but in his defense, he was a bit distracted. He had to run out to the bullpen between his pinch running and then hitting in the DH spot to help warm up a reliever! Is there no one on the Red Sox coaching staff who could catch a pitcher for a warm-up?
In all, the game saw 5 hit batsmen. Pedrioa, Crisp, and Youklis for the Sox, Crawford (what a shame) and Iwamura (again, too bad) for the Rays.
The two team play again in Tampa for a four game set June 29 through July 2.
Can't wait.