2008 Season Opener: Sox 6 - A's 5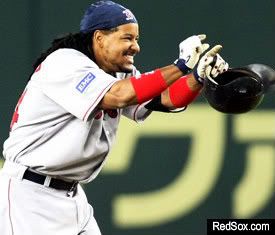 (PRE-GAME NOTES)
Thank you, Jesus, for delivering me from the hot-stove desert into the promised land of the 2008 season! Thank you further for the base running error by Emil Brown, because that is truly what gave the Red Sox today's win. Thank you
XM Radio
for allowing me to hear the Brandon Moss homer in the top of the ninth that tied the game. Thank you
MLB.tv
, that allowed me to watch Paps in the bottom of the tenth squeak out his first save of the season. Thank you for this victory over the Athletics of Oakland.
Baseball is here! The Red Sox are a half game up on the Yankees (and everyone else, for that matter.) All is right in the world, at least until tomorrow.

What a game for an opener! Manny gets 4 RBI, thanks in part to the psychosis that so many opposing managers who like to IBB Ortiz to get to ManRam (Even in games such as this where Papi is hitless and Manny already has two RBI. Go figure.)
J.D. Drew, a late scratch
because of something back related, is replaced by Moss who comes through in the clutch. My favorite moment was Ellsbury's simply amazing catch in center that almost surely saved a run from scoring. I'd like to describe it to you,
but you have to see it to understand
.
I was up rather late last night so I did not get up for the first pitch, but I did tune in on ESPN 2 early enough to see the three run 6th that gave the Sox a short-lived lead. I then followed the game with a succession of ESPN, XM, and MLB.tv (that Jesus for acronyms, too!)

I won't be working late tonight, so I'm planning on setting the alarm to watch Lester (who I think is going to have a break-out season) take the mound tomorrow.

Finally, thank the Lord for baseball itself. It is truly a miracle!

Amen