こんにちは, Tigers!*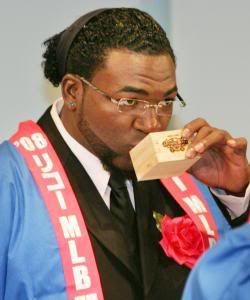 Everyone else in my house was in bed last night when I sat down in front of my laptop to watch the Red Sox take on the Hanshin Tigers. I must say, it was an interesting experience.
On MLB.tv, there was no English play-by-play. Listening to the Japanese announcers was fun bordering on hilarity! Even the between pitch banter was funny to listen to, given the fact that I understood almost none of it. It was a little bit of a pain trying to follow the game because the on-screen graphic for score and count was on and off throughout the time I watched. I finally fell asleep about the 7th inning, but found out this morning that the Sox held on to win, 6 - 5.
Some noteworthy points. Buchholz looked a little less that impressive, giving up 4 of the Tigers 5 runs. I still believe that there is some correlation to this and the fact that
the Japanese baseball is smaller
that the MLB official size. Buchholz has several balls in the dirt and at least one wild pitch that moved runners.
Papi and J.D. Drew didn't seem to mind the difference in ball size, both hitting jacks in the first inning. Another cool thing to see was Dusty Brown gunning a speedy Fujimoto in the bottom of the ninth to help Papelbon get the save. But where is Cash? After all that news about Mirabelli being released because Cash can handle the knuckler, I don't even seem him listed on the 40-man roster. He came into pinch hit for Ortiz in the game (more confusion) but is still listed as a non-roster invitee? What's going on there?
As much fun as it was to watch the Sox in a game where there was a bit more emphasis on winning than in the Spring Training games, I'll still be very glad when this Japan trip is over and we can all concentrate on April.
*Translation: "Hello, Tigers!"