Special Day for Dice-K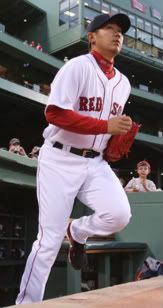 Tomoyo

, the wife of Red Sox pitcher

Daisuke

Matsuzaka

, gave birth to the couple's second child this morning. The story on the

MLB

site doesn't include the name of the baby, the couple's first son.
One of the most talked about situations in this past off-season, the timing was an issue for

Sox

fans as it was unknown whether he'd be able to make the trip to Japan for the season opener against Oakland.

MLB

is now reporting that the birth (mother and son are said to be fine) all but assures Dice-K's inclusion in the Japan trip. This, of course, is welcomed news because of Josh Beckett's ailing back and Curt Schilling's recent (and very much expected) inclusion on the 60-day

DL

. Without Dice-K, the Red

Sox

were probably looking at Wakefield and Lester to start the two games against the AL East

Althletics

.
While checking some links o gather a few details about

Matsuzaka

for this post, I stumbled across a story about some other special days in his history. Now, this is probably old news for folks in the know, but in case this is not true, let me pass on the story of the 1998 "Summer

Kōshien

", Japans national high school baseball championships.



Matsuzaka

pitched a 140 pitch complete game shut-out to get Yokohama High School into the quarter finals. The next day, he pitched a

250 pitch,

17 inning masterpiece to lift his team over PL

Gakuen

. The
next
day, he started in the out field, but came in and threw 15 pitches in relief, getting his third win in three days when Yokohama scored 7 runs in the eighth and ninth innings to win the game and put them into the final.

Matsuzaka

started that final game, and got his fourth win in as many days with a
perfect game!
It was only the second shut-out ever in the history of "Summer

Kōshien

".


I suppose we can assume that the Japan fans will be as happy to see in the line-up as we are?